INDUSTRIAL, OFFLINE TERMINAL RAILROADS & RAIL-MARINE OPERATIONS OF BROOKLYN, QUEENS, STATEN ISLAND, BRONX & MANHATTAN
DEVELOPMENT OF THE CARFLOAT TRANSFER BRIDGE IN NEW YORK HARBOR
MILITARY RAILROADS OF THE NEW YORK METROPOLITAN AREA
DOUBLE ENDED RAILROAD WRECKERS OF THE NEW YORK AREA
ERIE RAILROADS' L1 CLASS "ANGUS TYPE" 0-8-8-0 CAMELBACK
ABOUT YOUR AUTHOR:
Philip M. Goldstein
updated 11 August 2019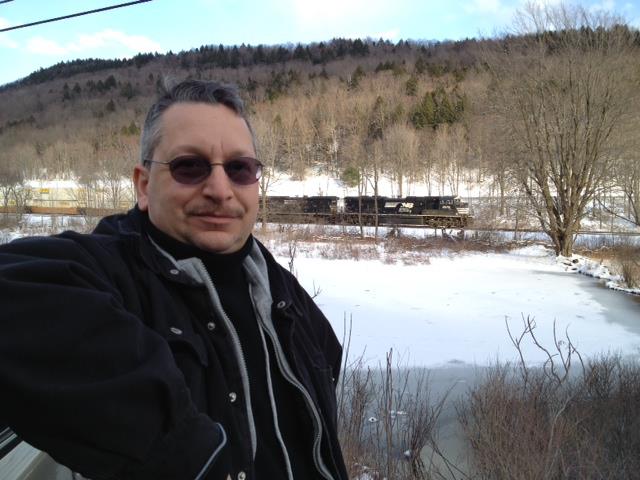 former Canadian Pacific East Region / Freight Main
(now Norfolk Southern Harrisburg Division / D&H South Line)
West Richmondville, NY - 2013
Deborah M. Pickering photo
.
..

Sharon Goldstein photo - 1970

I was born in Brooklyn (New York!) in 1969, and for as long as I can remember; I have always been heavily interested in railroading. And it runs in the family.

I was introduced to trains and railroading at an early age by my father Stan.

Some fathers played catch or football with their sons... My dad took me to see trains and railroads.

When I was 14 months old, NKP #759, a 2-8-4 "Berkshire" type, formerly from the New York, Chicago & St Louis Railroad (better known as NKP or the Nickel Plate Road) was laying over in Warwick, NY at the Lehigh & Hudson River Railroad shops, after the August 1970 High Iron Excursions along the Erie Lackawanna Main Line.

My mother Sharon took the picture (seen at left) of me on its front coupler being held by my father.

If only they knew where that would lead... And I think Dad did!

.

My father passed away on 05 October 2009. Rest In Peace Dad! I <3 U.

I may have been born a little too late for the BEDT steam show; but I did get to see some BEDT diesels in action, as well as New York Dock diesel operations at Fulton, Atlantic and Bush Terminals.

Matter of fact, when I was a child; I was fortunate enough to get a ride in a New York Dock RS3 diesel (in background) at Bush Terminal in October 1974. The crew just pulled up to my father and I, and said "come on up!" And away we went.


Stan Goldstein photo - 1974


Stan Goldstein photo - 1975

The picture at left was taken by my father on April 14, 1975.

Here I am at New York Dock's Fulton Terminal enginehouse in downtown Brooklyn.

I may not have had good fashion sense (checked pants with plaid jacket with a striped engineers cap?), but no doubt I have good taste in railroads! And that hair which was my mothers choice. Classic 70's.

As a result of the Offline Terminals located in Brooklyn being introduced to me at an early age, they therefore have a special place in my heart and how I came to author the website on their colorful histories.

By the time I able to use it, I had my own camera. A Yashica GT with 45mm f1.7 lens; and trust me; it saw plenty of use at railroad yards up and down the East Coast.

And here I am in Hollywood, Florida catching Amtrak train #93 "The Floridian" on April 19, 1976 while visiting my grandparents in North Miami Beach. And there I am carrying my trusty Yashica.

The engineer was quite friendly on one of the other trains I caught this day, as he threw me down a handful of flimsies (Form 19's) from Seaboard Coast Line, which I still have!


Stan Goldstein photo - 1976


John Testagrose photo - 1979

It seemed as if my father and I were always at Sunnyside Yards located in Long Island City, Queens, NY; which housed Amtrak, Penn Central and New Jersey Department of Transportation.

We would visit it several times a year and we witness first hand the transition from Penn Central to Conrail and New Jersey Department of Transportation into New Jersey Transit. We watched the venerable GG1's give way to AEM7's and E60's.

Here is a shot of me on the 39th Street overpass which overlooks Sunnyside Yards, and again there I am with the Yashica GT.


I still have this camera, '70's era strap and all; as it holds some very fond memories, and it really has taken quite a bit of railroad photos.

During summer vacation, my family spent a week or so almost every year in Strasburg, Pennsylvania. Obviously, this meant I was constantly around operating steam locomotives which as you can imagine; never grew boring. Matter of fact, this repetitive exposure helped develop my affinity for steam locomotives. We would usually shoehorn a day or two at Horseshoe Curve in Altoona as well. Oddly though, Dad never seemed to travel the few extra miles to the Gallitzin Tunnels, and I never got to ask him why.

Throughout my early years, I think I must have visited about 90% of the museums and tourist railroads in the Northeast.

In my mid 20's, I had the pleasure of assisting Robert Diamond organize the fledgling Brooklyn Historical Railway Museum, when it first getting set up in 1993 on the Van Brunt Street Pier in Brooklyn, NY. We met through the coincidence of our both trying to save BEDT #16 from Kent Avenue. From then until and through 1996, I helped hose out the former warehouse of pigeon droppings, set up industrial shelving and catalog street car parts, run electrical lighting and maintain both the generator sets: a 4 cylinder Hercules / Winpower believed to be from the NIKE Missile Site on Staten Island, as well as the 8V71 superturbocharged set donated to the BHRA from the LIRR. I also assisted in rebuilding the stairs in the Atlantic Avenue Tunnel, as well as construct cribbing for the cut granite wall in anticiapted excavation for the locomotive believed to be hidden behind that wall in the tunnel.

In those years; he, my father and I went to SEPTA in Philadelphia to pick up their donation of a partial spool of solid copper trolley wire. On another occasion, he and I and several other of his acquaintences crammed into a rented car and tooled down to Amtrak Baltimore Station to palletize several thousand of the paving stones from the station platforms for shipment back to Brooklyn. This took place on my birthday in the middle of torrential thunderstorms! In July of that year, we made out way to Long Island Railroad Oyster Bay Yard, to load 600 relay railroad cross ties which were donated to the BHRA, as well as pick up some donated rail from the NYCTA 36th Street Yard. The sacrifices I make!

One of my fondest memories is learning how to operate Oslo #3; a genuine museum piece and is an overhead electric four wheel trolley built in 1897 by Mann-Schukert in Germany; for use in Olso, Norway. At the time it was on loan to the BHRA and operated on short section of track in the Van Brunt Street warehouse. This car is currently located at the Trolley Museum of New York, in Kingston, NY. Speaking of the TMNY, and after my relocation to upstate NY, I joined their organization and became certified to operate #358 (ex-Johnstown, PA), a 1925 St. Louis Car Foundry (now reconfigured as self propelled diesel). I am also certified to operate railcars through the North American Rail Car Owners Association (NARCOA).
As it is every railfans sworn duty to try and finagle a cab ride as often as possible, but in this modern litigious society, corporations frown upon it to the point of even issuing penalties for crews; so such opportunities rarely occur on spur of the moment. That is, unless you either know someone higher up in the food chain or you are just exceptionally lucky, of course. At least one (usually the later), but often both applies to me. So, not to be overlooked are the numerous "discreet" cab rides I have received from active duty employees on my local Class 1's and 2's, even if it was only from one end of the yard to another. I won't go into details to protect the crew from possible disciplinary action, but these guys were friendly enough and remote enough to know how to make a rail enthusiast smile, and they have my utmost gratitude.
In addition to the New York Dock cab ride mentioned above when I was a child, I have also had the pleasure of numerous -publishable- cab rides as I got older as well: at least one cab ride in almost every piece of motive power of the Delaware & Ulster Railroad: ALCo RS36 #5017, ALCo S4 #5106 & #1012, GE 44T #76, and Brill M405. With their acquisition of NYO&W #116, I will now have to try to get a cab ride in that.
I have also been fortunate to have had a cab ride in Catskill Mountain Railroad #407 [ALCo S1]. This actually means a bit to me, as this locomotive is as close as I'll ever get to an operating former carfloating / rail-marine terminal locomotive, due to the fact that:
This locomotive is an ALCo S1, and Brooklyn Eastern District Terminal used the identical model locomotive for its carfloating operations after 1963 through closure in 1983,
#407 itself was used in carfloat drilling for the Long Island Rail Road at Long Island City Freight Terminal (just a few hundred feet upriver from the BEDT Pidgeon Street Yard)
As #407 was still equipped at that time with "eared" knuckles on her couplers (used for float bridge / carfloat interchange operation - it's the little things);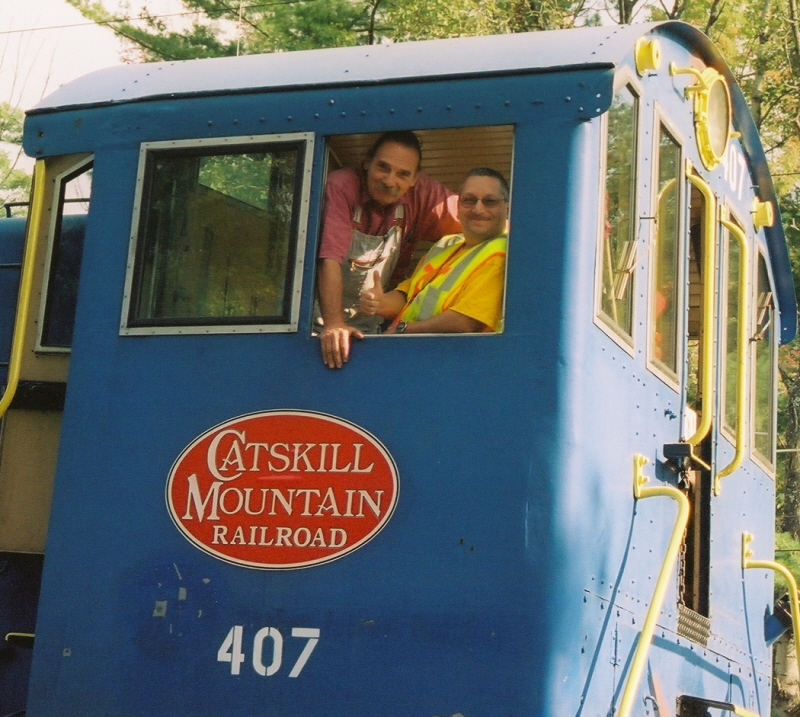 Catskill Mountain Railroad #407 - 26 September 2010
ALCo S1 (ex-SIRT #407, exx-LIRR #407)
Earl Pardini, President and Chief Mechanical Officer of CMRR and myself.
J. Tanksley photo
added 11 October 2012

But, there is nothing like cab riding a steam locomotive. I vaguely recall riding a steam locomotive as child, but not sure of when or where. Doubt it was Strasburg. Steamtown in Vermont perhaps or Morris County Central? I cannot say for sure. But, in September 2013, I had the very distinct pleasure of riding in the cab of Texas State Railroad #316 (4-6-0). Texas heat is just a tad more bearable (or maybe unnoticeable!) in the cab of steam locomotive. If one is going to roast, you might as well enjoy it!
Deborah, my better half of railfanning purchased a cab ride for me as an anniversary present. This worked out to her favor as well, because it was the last run of the day and after we arrived in Palestine, the crew invited her up as well for the run to the enginehouse.

Texas State Railroad #316 - [4-6-0 - ALCo-Cooke Works, 1901]
Rusk, Texas - 21 September 2013
Deborah M. Pickering photo


That your girlfriend?
Yup!
Whats she doing on the ground?
Didn't think there was enough room in the cab for two riders...
We can make accommodations! Get her up here!


Hold on!
.
.
.
.


Wind blowing in her hair as we ride back to the enginehouse
.
.
.
.
.
.
I have also been at one point or another, to some degree or another; involved in the cosmetic restorations of Brooklyn Eastern District Terminal #14 and #16.
.
Photography Equipment
Railfanning usually involves an interest in photography, and I am not exempt from this.
As for my photographic equipment, after my Yashica GT mentioned above, I eventually graduated to an Olympus Pen-FT 35mm Half Frame SLR with 50-90mm f3.5-4.5 zoom lens around 1980 or so. Unfortunately, as I grew older and graduated high school my interests matured and changed, and I drifted away from railfanning in 1983 with a coinciding hiatus in photography as well.
In 1995 however, I developed an interest in NASCAR Winston Cup Racing and my manual focus Olympus body just was not cutting it for high speed action photography. So, I purchased my first autofocus SLR: a used Minolta Maxxum 8000i. I added two 7000i's to the camera bag over the next few years. But from the get go, my used camera salesman (for both his commission and my image quality) convinced me to always invest in better lenses. So, as a result I purchased higher end / professional, fast focal ratio lenses: Minolta 50mm f1.4, Tamron 70-210mm f2.8 SP LD IF, Minolta 85mm f1.4 and so on. These better lenses allowed me to dabble in modelling photography, and apparently my skill was satisfactory enough to attain a position in Ford for Children Modeling Agency for a friends son for a modelling contract.
In 1999, after I relocated to upstate New York the previous year, I became a member of a pit crew for a friend's DIRT Motorsports 358 Modified racecar. By proxy, I became the "team photographer" as well as some freelance photography work at Accord Speedway when the regular track photographer wasn't available.
In 2003 or so, my interests in railfanning were rekindled, and I also became more serious about my camera equipment. I upgraded to a Minolta Maxxum 9 (with vertical grip) in 2008 and purchased a Minolta 28-70 f2.8G to accompany it. But, I remained a stalwart film user. Come hell or high water, I was going to be dragged screaming and kicking into digital photography era. That wouldn't take place until 2010.
I made the switch to digital, and I started with a Sony a350, which utilized all my high end Minolta lenses. By 2012, I added a Sony a700 to the camera bag. About that same time, while I was railfanning on the Poughkeepsie Railroad Bridge (it having been converted to the linear park "Walkway Over The Hudson"), my Minolta 28-70 f2.8G "committed suicide" by jumping out of my camera bag and onto the concrete deck. Unfortunately, it was not salvageable.
I replaced it with a Tamron 18-270mm f3.5-6.3 Di II PZD for "all in one" portability, but in the end I found I could not live without low light capability of a fast lens and went back to a two body system. So in 2015, I purchased a Sony a900 Full Frame DLSR. All my DSLR's have a vertical grip mounted for extra battery capacity and vertical controls.
At this time, I also commenced in updating my lenses either as a result of age or as stated above; attrition. So, I retired my trusty Tamron 70-210 f2.8 and bit the bullet and shelled out for a Sony 70-400 f4-5.6 SSM GII. This lens is my workhorse.
I now also have a Sony 16-50mm f2.8 mounted to the a700 and the Sony 70-400 f4-5.6 SSM GII paired with the a900, but I retained all my fast prime Minolta lenses: 35mm f1.4, 50mm f1.4 and 85mm f1.4 and with those, I continue dabble in event & sports photography for friends and family when the occasion arises.
I am not so serious about videography, and shoot it when as the situation requires. Currently, I have a Sony HD-CX440 for times I require zoom, but most of the time I just video on my iPhone 8. Both mounted on tripods of course.

.

Conrail Shared Assets Operations / North Jersey District
Rahway Movable Bridge "CP-RH" - Chemical Coast Line, Rahway, NJ
with my former stepson Joe.
photo by J. Roborecky


"The Bound Brook Irregulars"
Conrail Shared Assets Operations - North Jersey District / Lehigh Line
Bound Brook, NJ
photo by J. Roborecky

Conrail Shared Assets Operations - North Jersey District / Lehigh Line
Bound Brook, NJ
photo by J. Roborecky
.
I am also extremely fortunate that my fiancèe Deborah is almost as interested in railfanning as I am, and whom I might add very conveniently lives next to the BNSF Red River Division / Houston Subdivision in Flynn, Texas!
This allowed me to get away from my local roads CSX, CP, NYS&W and NS here in New York; and catch some UP, BNSF and KCS in action on their turf; as well as all the interesting industrial operations down there. That is before I moved down there full time!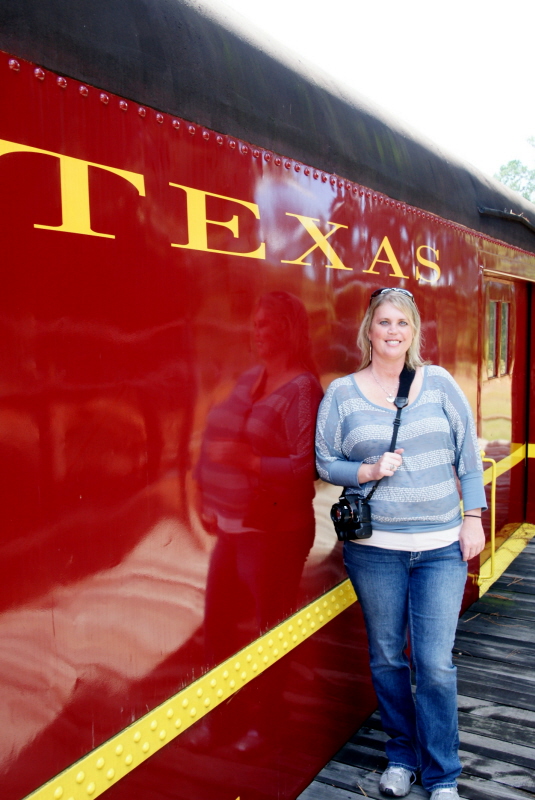 Deborah at Texas State Railroad;
Rusk Depot, Texas
.
Collecting
My railfanning interests have extended further from just taking images of trains to the point I now collect current & obsolete Employee Timetables as well as Track Charts for the locations of my railfanning.
I am also an ardent collector of railroad memorabilia & ephemera from the railroads that operated where I have lived near (Brooklyn, NY; Margaretville, NY; and now Flynn, TX) including but not limited to: New York City Transit System, and now the Trinity & Brazos Valley, Burlington-Rock Island Railroads.
Before moving down to Flynn permanently, I would take Amtrak between Texas & New York and "let someone else do the driving". This allows me to shoot the trackside industries and shortlines along the route, not to mention railfanning Chicago during layovers between trains.
On occasion I will splurge and rent a sleeper instead of coaching it!
I am a member of National Association of Railroad Passengers (NARP), and I am a strong advocate of AMTRAK, and passenger railroad transportation as a whole as well as freight railroads.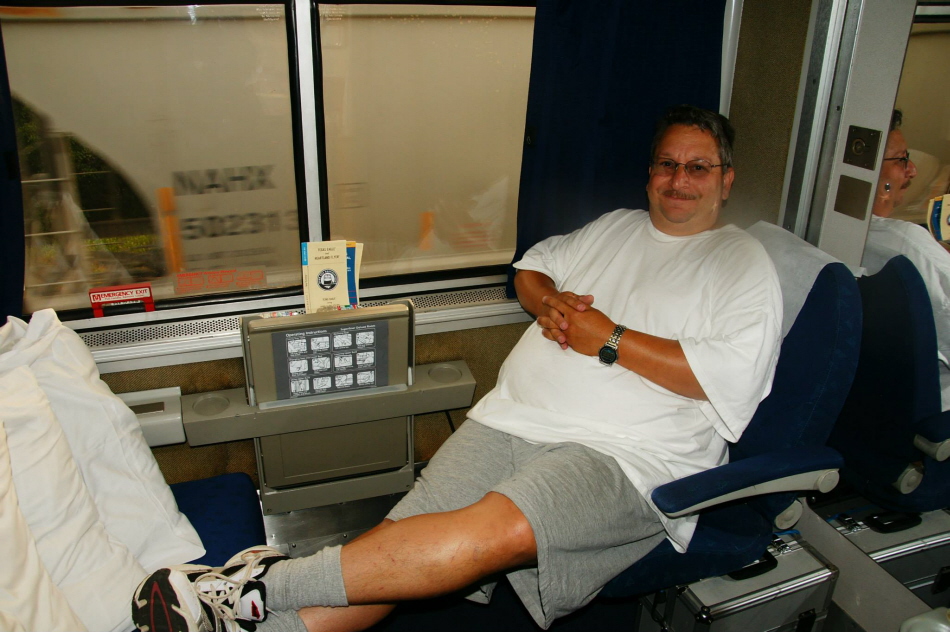 "First Classing" it on the Amtrak #22 "Texas Eagle" - 2014
Whatta shit eatin' grin...
Deborah M. Pickering photo
I continue to be an avid railfan and I am constantly exploring and visiting new locations to add to my "list" as well as scratch off items on my "bucket list".
These locations can reviewed below in my list of the railroads, locations and railroad museums I have either visited, photographed, and in some cases had the opportunity to ride as a passenger.
My railfanning images & videos (as well as other topics) are shared on FLICKR, YouTube and Railroad Picture Archives, as well as many diverse groups and pages on Facebook:
Class 1 / Revenue / Commuter / Industrial

road
city / town
state
Albany Port
Albany
NY
Amtrak
"Lake Shore Limited" #48 & #49 (Albany - Chicago)
"Cardinal" #50 (Indianapolis - New York City)
"Empire Service" (Albany / Rhinecliff / New York City)
"Texas Eagle" #21 & 22 (Chicago - Dallas)
Northeast Corridor - Metuchen
Northeast Corridor - Elizabeth
Northeast Corridor - Newark
Sunnyside Yards, Queens
Poughkeepsie
Rhinecliff
Albany
Amsterdam
Fonda
New Haven
Hollywood
Marshall
Albion
Chicago
NY > IL
IN > NY
NY
IL > TX
NJ
NJ
NJ
NY
NY
NY
NY
NY
NY
CT
FL
MI
MI
IL
ArcelorMittal
Gary
IN
Atlantic Coast Line
Hardeeville
Sanford
SC
FL
Auto Train (northbound)
Sanford > Lorton
FL > VA
Baltimore & Ohio
Baltimore
MD
Boston & Maine
Bellows Falls
VT
Brooklyn Eastern District Terminal
Brooklyn
NY
Burlington Northern Santa Fe
Red River (formerly Gulf) Division / Houston Subdivision
Red River (formerly Gulf) Division / Galveston Subdivision
Teague Yard
TX
TX
Bush Terminal
Brooklyn
NY
CSX
Albany Division / River Subdivision
Albany Division / Selkirk Subdivsion
Albany Division / Mohawk Subdivision
Albany Division / Hudson Subdivision
Albany Division / Castleton Subdivision
Albany Division / Port Subdivision
Selkirk Yard
West Albany Yard
Baltimore Yard
NY
NY
NY
NY
NY
NY
NY
NY
MD
Canadian National
Grimsby Subdivision - Merritton, Ontario
Bayview Subdivision - Hamilton, Ontario
Canada
Canada
Canadian Pacific / Soo / Delaware & Hudson
US East Region / Freight Subdivision - Oneonta
US East Region / Freight Subdivision - Colliersville
US East Region / Freight Subdivision - Richmondville
US East Region / Freight Subdivision - Belden Tunnel
US East Region / Freight Subdivision - Albany
Hamilton Subdivision - Welland, Ontario
NY
NY
NY
NY
NY
Canada
Conrail
Kingston
Suffern
Hoboken
Altoona
Horseshoe Curve
NY
NY
NJ
PA
PA
Conrail Shared Assets Operations
(CSX & NS)
North Shore Branch / Staten Island RR - Arlington Yard
North Jersey District / Lehigh Line - Bound Brook
North Jersey District / Lehigh Line - Union
North Jersey District / Chemical Coast Secondary - Elizabeth
North Jersey District / Port Reading Secondary - Port Reading Junction
North Jersey District / Elizabethport Yard
North Jersey District / Oak Island Yard, Newark
NY
NJ
NJ
NJ
NJ
NJ
NJ
Construction & Marine Equipment
Elizabeth
NJ
Dallas Area Rapid Transit
Dallas
TX
Dallas, Garland & Northern
Dallas
TX
DC Logistics
Hutchins
TX
East Penn / Morristown & New Jersey
Campbell Hall
NY
Erie Lackawanna
Callicoon
Suffern
Ramsey
Hoboken
NY
NY
NJ
NJ
Florida East Coast
North Miami Beach
FL
GATX - Plantersville Repair Facility
Plantersville
TX
Galveston
Galveston
TX
Grand Trunk Western
Albion
Battle Creek
MI
MI
Green Mountain
Bellows Falls
VT
Kansas City Southern
Transcontinental Division / Meridian Subdivision - Old Vicksburgs Bridge
MS
Kellogg's
Battle Creek
MI
Iowa Pacific / Pullman Private Cars
Chicago
IL
Lehigh & Hudson River
Warwick
NY
Long Island (passenger & freight)
as passenger, regular service on most branches
Sunnyside Yards, Queens
Jamaica, Queens
Bayside, Queens
Penn Station, Manhattan
Oyster Bay
NY
NY
NY
NY
NY
NY
Metra
Chicago
IL
Metro North
Hudson Line - Poughkeepsie
Hudson Line - Anthony's Nose
Port Jervis Line - Port Jervis
Port Jervis Line - Moodna Viaduct
New Haven Line
NY
NY
NY
NY
CT
Mohawk, Adirondack & Northern
Utica
NY
Morristown & Erie
Morristown
Greenville
Howland Hook
NJ
NJ
NY
New Jersey Department of Transportation
Sunnyside
Hoboken
Port Jervis
NY
NJ
NY
New Jersey Transit
as passenger, regular service
Port Jervis Line - Port Jervis
Raritan Valley Line - Bound Brook
Northeast Corridor - Newark
Northeast Corridor - Elizabeth
Lehigh Line - Union
Main Line - Rutherford
Ramsey
Suffern
NJ > NY
NY
NJ
NJ
NJ
NJ
NJ
NJ
NY
New York City Transit Authority
as passenger, regular service most lines
Coney Island Shops, Brooklyn
39 St Yards, Brooklyn
50th Street Tower, Manhattan
NY
NY
NY
NY
New York Container Terminal
Howland Hook
NY
New York Cross Harbor
Brooklyn &
Jersey City (Greenville)
NY
New York Dock
Brooklyn
NY
New York New Jersey Rail
Brooklyn
Jersey City (Greenville)
NY
NJ
New York, Susquehanna & Western
Northern Division / Syracuse Main Line - Cortlandville - Whitney Point
Southern Division / Main Line - Little Ferry
NY
NJ
Norfolk Southern
Harrisburg Division / Southern Tier Line, Binghamton
Harrisburg Division / D&H South Line
Harrisburg Division / Pittsburgh Line - Rockville Bridge
Hillburn Yard - Suffern
Dearborn Division / Chicago Line, Port Clinton
Dearborn Division / Chicago Line, Sandusky
Sandusky Division - Sandusky Yard
Central Division / Appalachia District - Natural Tunnel
NY
NY
PA
NY
OH
OH
OH
VA
Nucor Steel - Bar Mill
Jewett
TX
Penn Central

Horseshoe Curve
Altoona
Penn Station, Manhattan
Suffern
Tappan
New Haven
Battle Creek
PA
PA
NY
NY
NY
CT
MI
Port Jersey
Greenville
NJ
RailEx Facility
Rotterdam
NY
Ringling Brothers Circus Train (Red & Blue)
West Side Yard, Sunnyside Yard, Oak Island
NY& NJ
Seaboard Coast Line
Florence
Sanford
SC
FL
South Brooklyn Rwy (NYCTA)
Brooklyn
NY
Southern
Brunswick
GA
Southern Ontario
Hamilton
Ontario
Strates Shows Circus Train
Port Jervis
NY
SuperSteel Schenectady
Glenville
NY
Terminal Rail Road Association of St. Louis
St. Louis
MO
Texas International Terminals
Galveston
TX
Trinity Rail Express
Dallas
TX
Union Pacific
Dallas-Fort Worth Service Unit / Hearne Subdivision
Dallas-Fort Worth Service Unit / Dallas Subdivision
Houston Service Unit / Bryan Subdivision
Houston Service Unit / Navasota Subdivision
Houston Service Unit / Ennis Subdivision
Hearne Yard
Bryan Yard
TX
TX
TX
TX
TX
TX
TX


Tourist / Heritage / Museums / Photo Opportunies / Defunct RR's & Facilities

Adirondack Scenic
Utica
NY
American Portland
Alsen
NY
Branford Trolley Museum
Branford
CT
Brooklyn Historic Railway Association
Brooklyn
NY
Burlington - Rock Island Museum
Teague
TX
Busch Woodlands
Cooperstown
NY
Cadillac & Lake City
Sandstown
MI
Catskill Mountain Railroad
Phoenicia & Kingston
NY
Chesapeake & Ohio #614
(running! - NJT Port Jervis Line 1998)
Harriman
NY
Cooperstown & Charlotte Valley
Cooperstown
NY
Empire State Railway Museum
Phoenicia
NY
"D&H #302" (Reading #2102 - High Iron Excursion)
Callicoon
NY
Delaware & Ulster Railroad
Highmount - Arkville -Roxbury
NY
Florida Gulf Coast
Parrish
FL
Freedom Train (runby 1976)
Ramsey
NJ
Galveston Railroad Museum
Galveston
TX
George Herbert Walker Bush Funeral Train
College Station
TX
Iowa Pacific "Travel Pullman" Private Cars
Chicago
IL
Morris County Central
Morristown
NJ
NKP #759 (High Iron Excursion)
(High Iron Excursion layover)
Callicoon
Warwick
NY
NY
Railroad Museum of Long Island
Riverhead
NY
Railroad Museum of Pennsylvania
Strasburg
PA
Reading - McMyler Dumper
Port Reading
NJ
Red Caboose Lodge
Strasburg
PA
Saratoga & North Creek
Saratoga Springs
NY
Starrucca Viaduct
Lanesboro
PA
Steamtown U.S.A.
Bellows Falls
Scranton
VT
PA
Strasburg
Strasburg
PA
Super Steel
Glenville Industrial Park (Amtrak Rohr Turboliners in storage)
NY
Texas and Pacific Railroad Museum (external exhibits only)
Marshall
TX
Texas State Railroad
Palestine - Rusk
TX
Trolley Museum of New York
Kingston
NY
Ulster & Delaware RR Historical Society
Roxbury
NY
Viscose #6 (rent a saddletanker) on CMRR
Phonicia
NY
Walkway of the Hudson (CSX & Amtrak / MetroNorth)
Highland - Poughkeepsie
NY
New York, Ontario & Western
(walked r.o.w.)
Summitville
NY
Ulster & Delaware RR
(walked r.o.w.)
Kingston - Oneonta
NY
.
.
Currently, as a result of my research and this website, either in part or in whole; has found its way to serving the public through the following agencies, publications and preservation groups, either by contribution or consultation:

"Accidental Playground", D. Campo

"Greater Gotham", Mike Wallace; Oxford University Press


"30 Year of Garbage", June Gonzalez; Peel Here Productions

New York State Office of Parks, Recreation & Historical Preservation

Northeast Corridor Infrastructure & Operations Advisory Commission


.

Surface Transportation Board, Office of Environmental Analysis


.



Liberty State Park, History of the NY Region


.



New York Times


Erie Lackawanna Historical Society "The Transfer"

Urban Oyster Tours

Tampa Review, University of Tampa

Tugster, A Water Blog

Society of Industrial Archeology, Roebling Chapter: Greater New York & New Jersey area

Whitney Museum of American Art, Whitney Museum of American Art

WABC-TV Channel 7, New York

New York Times

Phoenicia Times: October 14, 2004; inaugural crossing of State Route 28 by Catskill Mountain Railroad, in Mt. Tremper, NY


Classic Trains Magazine: Fall 2017 issue: "What's in a Photograph? Erie's Harlem River Freight Station, circa 1940" (in collaboration with Jerry Pinkepank)


.



Normangee Star: December 19, 2018 issue; BNSF derailment in North Zulch, TX


.

Railfan & Railroad: February 2019 issue; photos & roster of George H. W. Bush funeral train; UP Navasota Subdivision; College Station, TX


.



New York Susquehanna & Western RR Technical Society 2018 annual calendar


.



numerous symposiums, presentations, clinics, discussions and articles presented by both prototype and scale model rail enthusiasts,
including Railway & Locomotive Historical Society, National Model Railroaders Association and others


.




and while I cannot find the email or remember the title, Arcadia Publishing requested use of my material for one of their Images of America books (if you find it or my name please let me know!).




.
In addition to the research of, and collecting photographs and memorabilia from Brooklyn Eastern District Terminal, my other railroad related hobbies and interests include:
history, research and collecting memorabilia of Industrial Railroads & Locomotives that operated in Brooklyn, Queens, Staten Island, Bronx and Manhattan; NY;

history, research and collecting memorabilia of Military Railroads & Locomotives that operated in the New York Metropolitan Area;

scratchbuilding HO scale locomotives of BEDT and Erie L-1;

"weird" camelback style locomotives: i.e.: Erie L1 0-8-8-0 camelbacks and the St. Clair Tunnel Co. 0-10-0 sidetank camelback are two of my favorites)

collecting memorabilia from Trinity & Brazos Valley Railway and Burlington - Rock Island Railroad.

.
Currently, my full time occupation (unpaid) is research and historian of Industrial & Offline Terminal Railroads of Brooklyn, Queens, Staten Island, Bronx and Manhattan; and as a result, maintaining the websites and page associated with this research.

Other times, when funds and time permit; I can be found chasing trains and since relocating to Flynn, Texas in November 2017; I find myself doing some freelance photo journalism for local newspapers.
.
Should you find the need to contact me, please feel free to email or call me:




bedt14@aol.com

(936) 396- 6103