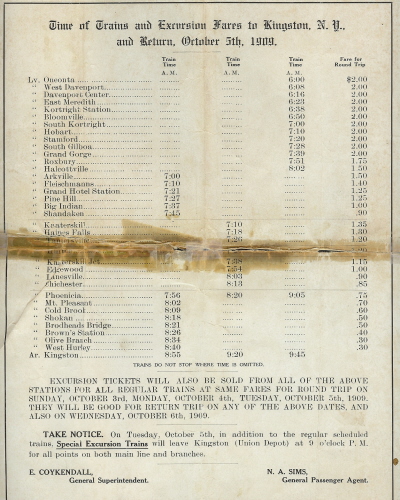 Two page, two sided Programme for:
The Hudson-Fulton Celebration at Kingston, NY
October 3 - 4 - 5, 1909
with station schedule of special Ulster & Delaware excursion trains .

This 3 day and 2 night celebration was in recognition of the Three Hundreth Anniversary of
the exploration of the Hudson River by Hendrick Hudson,
and the 1807 journey from New York to Albany by Robert Fulton's steam powered ship
"Clermont".

Two additonal pages of the detailed history of those journeys, and the schedule of events, reviews and unveilings
in the city of Kingston are not scanned, but I will be most pleased to accomodate any requests for such!