MILITARY RAILROADS
OF THE NEW YORK METROPOLITAN AREA:

FORT HAMILTON
Brooklyn, NY
...
Fort Hamilton is located at the entrance to the Verrazano Narrows, overlooking Lower New York Bay; and out of all the other Forts mentioned here, Fort Hamilton is the only one still active (albeit as headquarters to several commands, not as an artillery base).
Fort Hamilton was organized in 1825, with completion in 1831, and was another Coastal Defense installation. Several famous American military personnel were stationed here, those being: Captain Robert E. Lee; who would serve as post engineer 1841-1846, and Thomas "Stonewall" Jackson, and Abner Doubleday who would be Post Commander in 1861.
Fort Hamilton worked in cooperation with Forts Wadsworth, Tilden and Hancock in the defense of the entrance to New York Bay: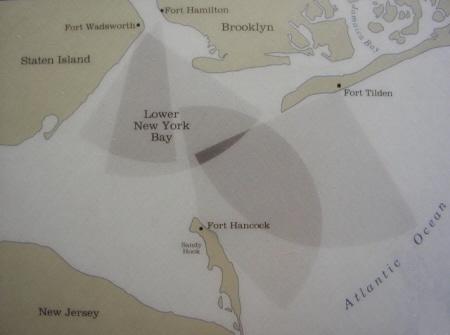 .
Like the other military installations mentioned having locomotives here, nothing can be found regarding a railway on the premises. Referencing the 1921 series of Fort Maps fails to show any recognizable notations regarding the use of a railway.
Yet once again; one can only hypothesize about the use of a railway in the Fort: it in all likelihood had built to haul munitions from bunkers to the artillery batteries.
The unusual entries here, are that the Fort Hamilton locomotive was of 0-4-2 wheel arrangement, while all other military engines on this website were of 0-4-0 wheel arrangement. The author is left wondering why the need for a trailing pony truck...
Also, H. K Porter records show this locomotive was delivered "care of G. W. Kuehule, assistant engineer, Fort Hamilton".
.
..
Fort Hamilton Steam Locomotive Roster

builder

c/n
build
date

gauge
wheel
arrangement
wheel
dia

cylinders

acquired

number / name

disposition

notes
ref
H. K. Porter
1986
3/1899
36"
0-4-2
7" x 12"
new
c/o G. W Kuehule
Asst. Eng.
[3]
---
Military Railroads of the New York Metropolitan Area - Main Page

New York Navy Yard
Brooklyn, NY

Fort Hamilton|
Brooklyn, NY

Fleet Supply Base
Brooklyn, NY

Brooklyn Army Terminal
Brooklyn, NY

Governors Island / Fort Jay
Manhattan, NY

Fort Wood / Bedloes Island
Manhattan, NY

Fort Schuyler
Bronx, NY

Fort Tilden
Queens, NY

Fort Wadsworth
Staten Island, NY

Fort Terry
Plum Island, NY

Fort Hancock
Sandy Hook, NJ
---