MILITARY RAILROADS
OF THE NEW YORK METROPOLITAN AREA:

FORT WADSWORTH
Staten Island, NY
..
.
.
Fort Wadsworth (named so in 1865) is located at the eastern tip of Staten Island over looking Fort Hamilton to the east and New York Harbor to the north. This property has been a military reservation in many names and served many purposes since it's creation in 1626.
Fort Wadsworth worked in combination with Forts Hamilton, Tilden and Hancock in the defense of Lower New York Bay.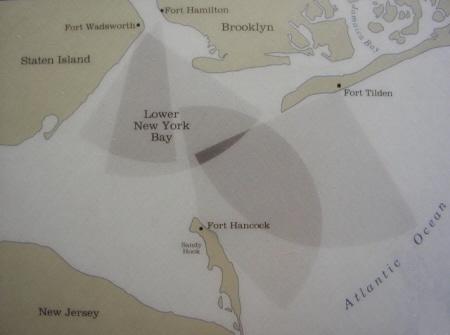 .
Again, nothing can be found regarding a railway on the premises. And yes, once again; one can only hypothesize about the use of a railway in this Fort, being built to haul munitions from bunkers to the artillery batteries.
Also, H. K Porter records show this locomotive was delivered "care of Major H. M .Adams, Fort Wadsworth".
.
..
Fort Wadsworth Steam Locomotive Roster

builder

c/n
build
date

gauge
wheel
arrangement
wheel
dia

cylinders

acquired

number / name

disposition

notes
ref
H. K. Porter
1887
8/1898
36"
0-4-0
9" x 14"
new
c/o Major H. M. Adams, Ft. Wadsworth
[3]
---
Military Railroads of the New York Metropolitan Area - Main Page

New York Navy Yard
Brooklyn, NY

Fort Hamilton|
Brooklyn, NY

Fleet Supply Base
Brooklyn, NY

Brooklyn Army Terminal
Brooklyn, NY

Governors Island / Fort Jay
Manhattan, NY

Fort Wood / Bedloes Island
Manhattan, NY

Fort Schuyler
Bronx, NY

Fort Tilden
Queens, NY

Fort Wadsworth
Staten Island, NY

Fort Terry
Plum Island, NY

Fort Hancock
Sandy Hook, NJ
---