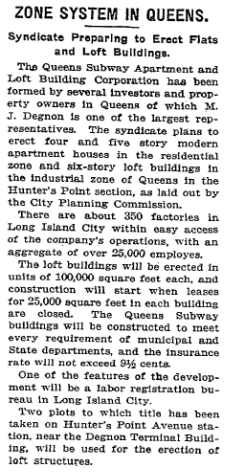 Here's a little known firm submitted by Gene Gerstner.
Not much is documented about this corporation, but it was organized around 1916 to convert industrial properties in Hunters Point, Queens; to four and five story residential apartment buildings, with some scattered light commercial structures.
According to the New York Times newspaper article from February 6, 1916 (seen at right), M. J. Degnon transferred property on Hunters Point Avenue to the Queens Subway Apartment & Loft Building Corporation.
Michael J. Degnon as stated, was one of the largest representatives of QSAL. He was also president of Degnon Contracting Co. (which had been the contractor for the Steinway Street subway tunnel among other subway construction projects).
Michael J. Degnon also organized the Degnon Terminal, a large industrial / commercial loft building property, which was located in Long Island City. (You can read about Degnon Contracting in it's own chapter above).
In 1922, Queens Subway and Loft Building acquired a plot of land located at Skillman and Hunters Point Avenues, (this being within the Degnon Terminal), in Long Island City for the construction of a modern loft building.
As mentioned in the New York Times article dated October 15, 1922 (which is seen below); this new loft building would be served by the Long Island and Pennsylvania Railroads with a capacity of six freight cars.
It is only logical that switching at this new loft building (being located in the confines of the Degnon Terminal) would be executed by Degnon Terminal locomotives until the Long Island Rail Road took over the property in 1928.